Forget Work-Life Balance. This is a myth.
Balance is not possible if you want to grow your business AND live life to the fullest.
This requires MASTERY of your work and your time.
Besides, balance is an average approach to life. And you're not average.
If you're a high-performer looking for the secrets to have more income, influence, and impact, then congratulations. You're in the right place.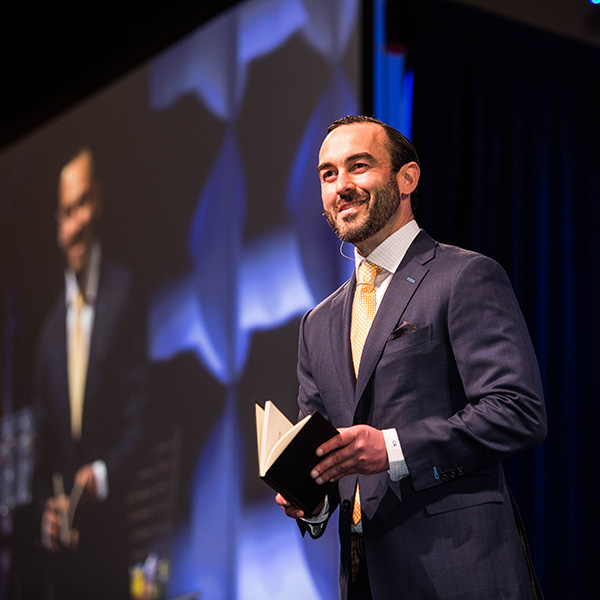 My name is Craig Ballantyne, and I've spent 21 years coaching business owners, CEO's, actors, and athletes to achieve results that they didn't think possible.
Two decades of coaching has shown me...
You can make more money while working fewer hours...
You can travel the world doing what you want when you want
You can make more time for your family and taking care of yourself
This little-known process is called Work-Life Mastery.
It's more fulfilling than balance...
It's more financially rewarding than being average...
It's more strategic than grinding every day...
It's more impactful than trying to balance everything...
But a word of warning... This is an unconventional approach to life.
Fortunately it's been done over and over again.
I have clients with five kids, 8-figure businesses, and dozens of employees, and they've used my secrets to live life on their own terms.
At the Work-Life Mastery program, you're going to get the EXACT secrets that they have used to build the life of their dreams, get even more done (despite the CRAZY demands on their schedule), and achieve their biggest goals in record time.
You'll discover how Isabel De Los Rios built a community of 1 million customers while still home-schooling her children
You'll learn how Joel Marion built a 9-figure business, an email list of over 5 million people, and still is present for family dinner with kids every night
You'll find out how Bedros Keuilian built an Empire while still getting home from work at 4 p.m. to play with his children and spend quality time with his wife
So if you're looking to reach more people, to make a massive difference in the world, to leave a legacy and build a fortune for your family, then you must MASTER your work and home life.
To experience this, I invite you to join me at my next Work-Life Mastery meeting.
The Work-Life Mastery program is unlike any other coaching program you've tried before.
This is NOT a program for beginners looking to make their first dollar online... it's a program for serious entrepreneurs looking to go to the next-NEXT level in life.
But this is also NOT a program where you'll be taught to "do it all" and end up working 12 or more hours per day.
And this is NOT a fluffy life-coaching program where "gurus" motivate you and then leave you on your own to do the hard things...
Instead, you'll get real-world advice to grow your income, impact, and influence. I'll show you exactly how to...
Dramatically increase your business revenue and personal income using in-depth sales strategies and the latest marketing methods that are proven to work
Rapidly generate new leads and clients to give your business fresh life and a sustainable future so you rise above your competition
Build a 10X vision for your business and execute on what matters, all while stopping the 10% activities that are a drain on your time and energy
Get in contact with the right people that can solve your personal and professional problems quickly and easily
Create a high-value brand and business that relies less on you personally and grows quickly through your leadership and empowered team members
Connect with other like-minded, high-achievers who can share their life wisdom and experiences to get you through any tough situation in life
Make more time and money for what matters, such as your family, your charities, your hobbies, and your health
With the Work-Life Mastery program, you'll finally build that well-oiled machine business that you've always desired to have ... the business that allows you to step away for weeks at a time to go on holidays and enables you to relax and recharge and be present with your family at night... rather than checking your phone all the time.
The Work-Life Mastery program is for any high-performer who wants to grow a successful business that generates massive amounts of free cash flow to support your DREAM lifestyle while also having a huge impact on the world and truly changing the lives of your clients for the better.
Now while many of my large corporate clients are happy to pay $25,000 or more per DAY to have me to turnaround their company and personal lives, this approach and budget probably isn't right for you.
What you need is a deep connection with me to grow your business
What you need are multiple get-togethers to build the 10X vision for your future
What you need is time with me to implement the custom success strategies for your life
What you need is the support of like-minded high-performers in a safe environment
What you need is a full 12-months of coaching & accountability to keep you on track
You get all of that and more in the Work-Life Mastery program, and more, including...
Introductions (when appropriate) to other millionaires and high-performers in my "Godfather Rolodex" who can help solve your problems
10X growth strategies to scale your business from 7-figures to 8-figures
Cutting-edge leadership skills that work in this era of managing both Millennials and boomers for a stable, successful team culture
In-depth sales skill training to grow your confidence so that you can increase your income and impact without stress
Personal self-care strategies so that you can take care of the Golden Goose (you!)
This is your one-and-only-chance to sit-in on my next Work-Life Mastery Mastermind meeting where you'll learn how to grow your Empire and take back control of your time.